Boring Thursday morning of April 27, 2006, I received a text message from Uncle Bong inviting me and Jeanne to go to Lake Sebu. I was in Marbel then, my second time to visit that place,and I was very eager to explore the city and its neighboring municipalities.
Lake Sebu is a municipality located in South Cotabato. It was an hour's ride from Marbel. Commuting would take longer, you can either ride on a bus or van travelling to the Lake Sebu minicipality, and thereafter take a motorcycle (locally known as
habal-habal
) to take you to wherever you want to go. You can either go to the very famous natural lake ("Lake Sebu", where the municipality's name is taken), or visit other places like the 7 waterfalls.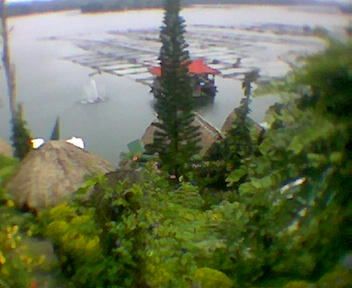 What makes Lake Sebu amazing is that seems to be located on top of the mountain, it looks more like a crater than a lake, but there are no volcanoes there... It's really a lake, not a crater... There are different resorts around the lake. Most of these offer lake tour packages, fishing, some have swimming pools. The lake tour includes a native T'boli tourguide, clad in their native attire complete with the 6-kilo brass belt with full of bells.
Of course, the trip is not complete without food. The restaurants can either cook your catch if you are lucky enough in your fishing expedition or you may order from their palatable menu which mainly consist of tilapia dishes. Lake Sebu is one of the major producers of Tilapia. For me, the best dish was the chicharon tilapia. I was never a tilapia-eater but the chicharon tilapia served there was a big and instant hit for me. It is really delicious. Another first is the tilapia kinilaw. In my 21 years of existence, I have only encountered malasugue (blue marlin) and bariles (tuna) kinilaw. I was shocked to see a kinilaw na tilapia in their menu. It was good-tasting as well and I highly recommend it, a must-try, it went beyond the ordinary kinilaw that you've tasted before.
Lake Sebu was an enjoyable experience. If you happen to visit South Cotabato, don't forget to take a peek at the magnificent Lake Sebu and be awed by its beauty.